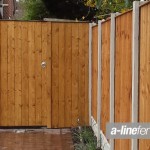 Use timber fencing panels in Childwall for a top-quality and durable fencing solution. There are a number of reasons why you'd erect a fence on your property. The most common reason would be to demarcate your property. Another reason would be security and privacy. In today's busy world, it is prudent to ensure that your property and your home are safe and secure. One of the best ways to do this is to install a well-built garden fence. Timber has been the most popular choice in garden fencing because of the many benefits that a timber fence provides. Durable and attractive, timber fencing panels offer a garden fence that will keep your property secure, and look good while doing so.
It is best to use a professional company for your fencing needs. In Childwall, timber fencing panels are one of our most popular products among our clients. We offer carefully manufactured timber fence panels, with the timber sourced from sustainable, ethically managed woodlands. You are welcome to pay us a visit and have a look at the range of timber fencing panels we have on offer. We are also pleased to offer our assistance, guidance and advice on the best-suited timber fence for your property. We are proud to say we can assist with all types of garden fencing, however, we specialise in timber fencing. Speak to us about the different types of timber fencing panels, fencing styles and different functionality requirements needed from your garden fencing. Concerned about installing your new timber fencing? Not to worry, our team of experts are available to install your new timber fencing panels, resulting in a timber garden fence that will do you proud.
Timber fencing panels in Altrincham are but one of the services we offer. Should your fence need attention, we can replace the damaged panels with new. If you would like more information about our timber fencing panels, contact A-Line Fencing today. We also offer stunning wooden garden gates that will match your timber fencing, adding the final touch to your property. Our expert team builds unique timber gates that are perfect for your garden, driveway and backyard.