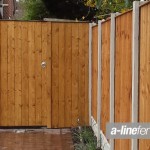 Timber fencing in Wavertree is an example of doing something right the first time so you don't have to keep repeating the process. At A Line Fencing, we know what we're talking about. We install timber fencing and sometimes we have to remove the old fence first. It may only be a few years old but the poor quality of materials and workmanship is clearly displayed. Sure, it may have been cheap when that fence was installed. However, it works out to be extremely expensive because now it has to be pulled out and replaced. That's more money and it should never happen. We also repair fences so we sometimes see where corners were cut to save time and money. If a fence is worth repairing, that's a good sign of quality materials.
Our timber fencing is strong, durable and substantial. If you want a fence to stand up to the elements in Wavertree, our timber fencing is your best choice. We have so many beautiful timber fence styles to grace your garden, provide security and privacy along with improving the aesthetics. If you want a fence that will protect your loved ones and your belongings from trespassers, dangerous streets, or the neighbour's garden blight, heavy duty timber is the best choice. You won't get value for your money from plastic or thin board fencing. Start with the best and be done. Any damage incurred by time and storms, we can repair so it looks like new.
If you choose timber fencing in Wavertree, it's likely you'll never have to replace the fence again. When we install a fence we use sturdy hardware meant to hold the wood together without splitting or loosening over time. The postholes are sunk deep for stability. Add one of our timber gates with attractive but durable locks and handles for even more security. You're going to love the look of your natural timber fencing. It's going to add to the kerb appeal of your home and likely increase your property values. Contact A Line Fencing for a free quote and let us show you the quality of our products. Our costs are competitive and chances are you'll never have to pay for another fence replacement while you're in that home.