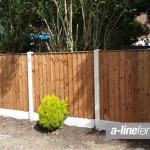 Timber picket fencing in Huyton, the way you want it, is available at A Line Fencing at great prices. Even more important than great prices is the great quality. Fortunately you get both when you choose us. You might also want to take advantage of our professional installation. The whole package is guaranteed to please. There is more than one style of picket fence. People often think of the four foot spaced white slats with each slat shaped to a point at the top. It's definitely a charmer in fencing. The look never goes out of style so even though it's a traditional fence it suits almost any style house. The single slats pointed tops are often flattened or rounded a bit. That helps to prevent injury to climbing children, jumping dogs and fence walking cats who overestimate their abilities.
Picket fences are not just for ornamental fencing or boundary marking. In Huyton, picket fencing can provide privacy if built to greater height and also by closing the gap between the slats. Double-sided timber picket fences are also popular because both you and your neighbour have the same finished view of the fence. A six-foot double-sided picket fence with one of our solid timber gates will provide privacy, security and block unsightly views. Timber fences are attractive because they are natural to the environment. You can also make them an aesthetic addition using stain or paint colours to compliment your home. You will often find picket fencing for sale in home improvement stores but look at it closely. It's likely the slat boards are flimsy and thin.
We sell solid timber picket fencing in Huyton that is durable and ready to withstand the elements for years. In addition, we offer other styles of fencing panels made from timber and also chain link and wire security fencing. The craftsmanship is the part that makes the final decision about the durability of your picket fence. We use the grade of fixatives and hardware that will maintain your fence straight and sturdy. Contact A Line Fencing for a free, on site cost quote for your picket fence. In addition to its practical and aesthetic functions, your fence is also an investment that adds value to your home. Consider all of our fencing options then choose the best for your particular needs.