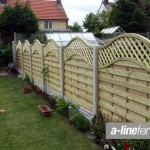 For excellent quality replacement fencing in Warbreck, trust a well established fencing company. Your property fence, whether it is for your private home or your business, must be secure and free from damage. It serves as a means of protection from unwanted intruders. It's also a way in which to demarcate your property. On top of that, a well-constructed and maintained fence around your property adds value. If the fence around your property is old or is damaged, it may be time to have it replaced with a new fence.
There are a number of different types of fences available. In Warbreck, replacement fencing should be as strong and as attractive as the original fence. Perhaps you have decided to change the type of fence now that you need to replace it. We offer a range of excellent quality fencing in different materials and styles. Speak to us if you need a replacement fence. Youll be thrilled to find that our prices are competitive and that both our products and workmanship are excellent. While we primarily work with timber fencing solutions, we also offer a range of other types of fencing. If you are wanting to replace the fencing on your business premises you can choose from mesh, palisade and concrete fencing. Alternatively, for your private property, consider replacing your fence for a new timber fence.
Replacement fencing in Warbreck will protect and add value to your property. When you choose our timber fencing, you're choosing style, durability and good value for money. Our timber fencing is long lasting. This is because all our timber fence panels are treated to ensure no rot and no insect infestations. For more details on how we can assist you with replacement fencing, contact A Line Fencing. Our experts have the skill and the knowledge on any type of fencing you need. We can discuss the best option for your needs, along with advice and suggestions for the style and type of fencing.  We're earned an excellent reputation for providing the fencing solutions that are tailored to meet our clients' needs. We can do the same for you and your new replacement fencing.