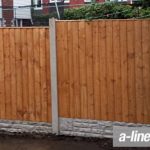 Excellent quality fencing panels in Knowsley are an essential part of a sturdy perimeter fence. Installing fence around your property is a prudent idea. It is a good way to keep intruders out, and children and pets safe. It's also a good way to demarcate your property. After all, it is said (with acknowledgement to Robert Frost) that good fences make good neighbours. When it is time to install your new fence, or to replace the old, find great quality fencing panels from a reputable stockist. We offer a range of high quality fencing panels at competitive prices. As fencing specialists, we provide timber fencing panels that will both meet and exceed your expectations. We can offer advice on the best type of timber and styles that would best for your fencing requirements.
With good relations with the best timber suppliers in the area, we are proud to offer our expert services that are second to none. In Knowsley, fencing panels from our company are strong and durable. This is what you want in a garden fence. There is no point in purchasing poor quality fencing panels, even if they are advertised at the best price. It will be a waste of money, time and effort as you will need to replace them sooner than you think. Our fencing panels are made to last. On top of that, if they do get damaged, they are easy to replace. All you will need to do is replace the one damaged fence panel without needing to replace the entire fence.
Fencing panels in Knowsley are available every day of the year. We are open every day for your convenience. For more details about our fencing panels, contact A Line Fencing. You are also welcome to request a quote for your new fencing panels. Our prices are highly competitive and you will be pleased to find that the cost of your new garden fencing is affordable. As well as providing quality fencing panels, we also can also install them on your property. Additionally, we offer a range of timber garden that will be the perfect complement to your new fencing.