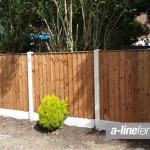 Demarcate your boundaries perfectly with our top-quality fencing panels in Wavertree. We completely understand how confused customers can be. There are so many products to choose from today. The internet has made things more complicated too. You can choose products not just from your local firms, but literally from anywhere in the world. This means that making the right choice and getting it right the first time is crucial. We have more than two decades' experience in this sector. We're proud of our reputation as a well-established, reliable and affordable service provider. Most of our work comes to us via recommendations and referrals. This is because we make no compromises on quality, yet we try to give our customers the best possible rates.
For customers in Wavertree, fencing panels that we supply meet the highest standards of national and international quality. We've more two decades' experience in this sector. We work with a close team of Liverpool contractors who provide excellent services across Liverpool, Merseyside, St Helens, Prescot, Widnes and the North of England. We also offer paving, decking, garden gates, steel and wrought iron gates and railings. When considering the right products, our team can help you with advice and assistance regarding design, style, durability and maintenance. Our services and products are available in keeping with your unique requirements. Your budget is also something we keep in mind when we make our suggestions.
While selecting fencing panels in Wavertree, the main concept to keep in mind is the purpose of your fence. Marking boundaries, privacy, safety and security are the main reasons for installing a fence. There are different types of fencing panels in various materials, sizes, shapes, styles and colours. The size of panels and how many are required are the other important points. It's also important to ensure that the panels are treated for moisture and pest resistance, weathering and timber preservation if they're made of wood. Contact A Line Fencing for more information about our top quality wooden fencing.  Pressure-treated fence panels are also rot-resistant. We can also supply the necessary accessories such as posts, anchors and gravel boards.