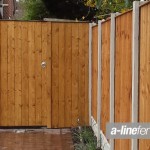 If you need replacement fencing in Liverpool, make sure you choose the best supplier. Is your garden fencing is looking a little shabby, or no longer doing its job? Or perhaps you would like to install a taller, sturdier fence around your property? Whatever your reason, we're a fencing company that can assist. We offer a range of different types of fencing, all of which is suitable to replace your current property fencing. You're welcome to choose from wooden fencing, palisade, concrete and post and rail fencing. We primarily work with timber fencing, however our services also include fencing manufactured from other sturdy materials. Your replacement fencing should be strong, visually pleasing and durable.
We are pleased to offer in Liverpool, replacement fencing that meets these requirements. Each type of fencing has its own benefits, and each is available at excellent prices. Our timber fencing is highly regarded and highly popular among our customers. This is because it is strong, sourced from ethically managed woodlands, and correctly treated. The concrete fencing e have on offer is also an excellent choice. It can provide a sturdy fence around your property. Additionally, as it is available in different sizes, you could choose to section off different parts of your property with smaller concrete fencing. Another great choice is palisade fencing. Palisade fencing is strong. It will not rot and is not easily damaged.
Replacement fencing in Liverpool is available in a wide range. It is also available at excellent prices. On top of that, we also offer an installation service. This is great for those who do not have the time or the equipment to correctly install their new fencing. For more details on how e can assist you with quality replacement fencing, contact A Line Fencing today.  Choose your new fencing with confidence. Should you need assistance or require advice for the best type of fencing for your property, our experts are on hand to assist. We're happy to provide suggestions for the most appropriate fencing for your property that will meet your needs, preferences and budgetary requirements.