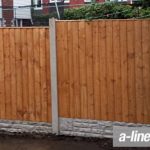 Wooden fencing in Woolton is an excellent choice when you're considering a replacement fence for your property. There are many benefits to choosing a wooden fence, and certainly, they are an attractive looking option. A wood fence is a cost-effective, environmentally friendly choice, regardless of the type of property you own. Another huge benefit of choosing wooden fencing is that they are affordable. This is especially true when you choose a company that is well-established and is held in high regard for its excellent quality fencing at pocket-friendly prices. If you are looking for new wooden fencing for your property, you are more than welcome to pay us a visit.
An attractive option for your home in Woolton, wooden fencing also provides excellent security. Durable and strong, this type of fencing will provide protection for your family. Wood is also an excellent environmentally-friendly option. It is bio-degradable and is easily recycled. Furthermore, wood is also a renewable resource. As wooden fencing experts, we are available to assist you with choosing the perfect fencing for your property. Speak to our expert team for free advice and suggestions. We can also advise you on the different timbers, their benefits, as well as the different functionality requirements of your fencing. Moreover, you'll find that our prices are highly competitive. Speak to us about a quote for your new wooden fencing.
Wooden fencing in Woolton is an excellent investment for your property. The clean lines of your new fencing will enhance both the look and the value of your property. For more details on our wooden fencing, contact A Line Fencing today. On top of that, we also are available to install your new wooden fencing. This is an excellent service if you are unable to install your new fencing. Our installation team has the experience and the skill to professionally install your new fencing. We also offer other products that will complement your new wooden fencing. Have a look at our carefully crafted wooden gates. These are available in different sizes and style to fit your wooden fencing perfectly.