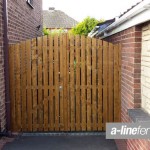 Timber gates in Whiston provide an aesthetically pleasing alternative to metal gates.People love the natural look and feel of wood, and a sturdy wooden gate is guaranteed to increase the value of your property. Wooden gates are strong, attractive and functional, and even large, heavy wooden gates are easy to open and close with automation. A Line Fencing build unique timber gates for gardens, backyards and driveways. They've been operating since 1998 and their excellent craftsmanship now includes fencing, driveways, decking and supplying and installing turf.
They operate every day of the week throughout the year, which means you can rope them in to work their magic with your home too. In Whiston, timber gates can be hand-crafted and personalised for any purpose. You can get a trendy garden gate to suit any size opening you have. The timber gates add a touch of interest to your home, whether you want them for a driveway, a courtyard or as a garden gate. When you look at their brochures, you'll be amazed at the choices you've got. The wood treatment A Line offers will ensure that your timber gate will remain attractive looking year after year.
Timber gates in Whiston can come with all the accessories and hardware you like. Garden gates can be installed with timber or concrete posts and different kinds of bolts. They have all the skills to give you a gate in any style. Contact A Line Fencing today if you would like to find out more about their selection of timber gates.  If you can't find wooden gate ideas from their brochure, the skilled team can turn your ideas into CAD drawings and then into reality. Increase the value and security of your property with expertly constructed and installed timber gates.