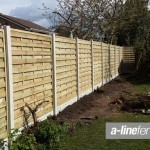 Garden fencing in Allerton is an excellent idea if you want to make improvements to the exterior of your home. A secure garden fence will ensure that unwanted visitors are kept away and will also provide the added benefit of creating an aesthetically pleasing look to your property. A garden fence that is professionally installed can offer you protection for your garden, your home and its contents. It can also ensure that animals can't enter your garden and eat your vegetables or destroy plants and shrubs. There is no point in having a beautiful garden that is ruined by an ugly old fence surrounding it. With many stylishly designed fences and bespoke options available, you can surround your beautiful garden with stunning fencing to compliment it.
A Line Fencing provides all types of fencing. In Allerton, garden fencing and timber fencing is our specialty. We also offer industrial fencing, steel security fencing, and palisade fencing too. Our garden fencing is available in timber options, all carefully manufactured and prepared on site. Our team of professionals can supply many types of bespoke designed timber garden fencing. Along with the impressive range of garden fencing we have on offer, we can also provide sound advice for your particular garden fencing requirements. If you are concerned about the installation of your new garden fencing, you will be pleased to know that we also provide a professional installation and fitting service, expertly completed by our experienced team of fitters.
If your garden fencing in Allerton is looking a bit worse for wear, we can replace damaged panels. We offer a repair and maintenance service to keep your garden fencing looking as good as the day it was first installed. For more information about affordable and sturdy garden fencing, contact A Line Fencing. While our specialty is fencing, we also provide and install timber decking, block paving, beautiful hand crafted garden gates, wrought iron gates and railings as well as industrial paving. Increase the value of your property and consider garden fencing from A Line Fencing.