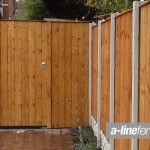 When you are in the market for quality garden fencing in kirkby, be sure to call us at A Line Fencing. We have been in business for many years because we build timber fences that last many years. Our company uses top quality timber in styles and designs that will enhance the curb appeal of your home. You may want a low decorative fence to frame your garden and define your property borders. We have attractive designs to meet that need. Many people choose back garden fencing for privacy. They want to enjoy their garden area without seeing or being seen by the neighbourhood. Security is important as well and our gates can be as high as your six-foot fence or placed at the four foot level for a view in and out of the garden. Either way, you will appreciate our secure locks. Your children and pets will be safe playing in their own garden and when you have a little time you can relax in undisturbed peace and privacy.
You may have an old fence that needs to be removed before your new one goes up. In Kirkby, quality garden fencing from A Line Fencing will remove your old fence and dispose of it. Then we prepare the ground for your new fence. The quality of the prep work determines how well your fence will stand against time and the elements. The finest timber in unskilled hands will result in a poor quality fence. At A Line, we do not take short cuts to save time or money. Every post is set and every nail is driven with care to ensure your fence brings you many years of trouble-free beauty and privacy.
We have landscaping and paving skills as well as fence building. What that means for your quality garden fencing in kirkby is you have a team of problem solvers building your fence. Do shrubs and small trees need to be moved and transplanted for a nice straight line? Maybe the ground needs to be levelled so the fence is level. We can manage those issues and more while building your fence to high-quality standards. Contact A Line Fencing for more information about quality garden fencing. We will come out and give you an estimate, explain how we will proceed with the project and leave your garden free of debris at completion.