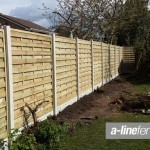 If you are looking for garden fencing in Woolton, A Line Fencing offer superior fencing services. We are a leading company in the fencing industry. We have been in the business for nearly twenty years and have built a strong relationship with all our customers. Our team works closely together and we are known for being courteous and hardworking. We started off as a small business offering garden fencing services. Over the years, we have expanded and we now also offer industrial fencing, block paving, wrought iron gates and railings, and timber decking.
Timber and garden fencing have been our speciality from day one. In Woolton, looking for garden fencing is something you won't have to do again. We offer quality garden fencing which is made to last. In the case of an incident where your fence gets broken, we can repair it for you. Our team of fencers have many years of experience and are excellent at what they do. Whether it is fencing instalments or repairs that you need, we have the know-how and skill to do the job properly. You won't have to worry about us disrupting your day as we will work on your terms. We will ensure that we don't leave any mess behind and are careful when working on your property.
If you are still looking for garden fencing in Woolton, perhaps you haven't been looking in the right places. Contact A Line Fencing today to find out more about our garden fencing. If you have exactly what you want in mind then we will get to work straight away. If you are struggling to make a decision, you can ask us for advice and then make a decision based on our wide variety of fencing options and the help we can provide.  We are eager to provide a tailored service just for you.