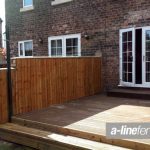 Timber decking in Rainhill is wanted by those who have an eye for style and sophistication. If you are planning an extension outside, then timber decking is most certainly the way to go. Imagine cocktails in summer evenings, or a place to relax on a lazy Saturday afternoon. This can be possible with well-made and installed timber decking from A Line Fencing. We can supply and install new or pre-built timber decking that is specially designed to suit both the style and look of your garden and property.
For your outdoor extension in Rainhill, timber decking is wanted to add value to your property. Not only will a beautifully made patio or deck increase the resale value of your property, it will also add an aesthetic value that is hard to beat. Timber decking is a great way to increase your living area without having to build an addition to your house. With this type of extension, you will gain opportunities to use your timber deck for BBQs, enjoying your favourite beverages, entertaining guests or just relaxing in the fresh air. They provide an excellent structure as timber is strong and durable. Each has its own look, its own character, texture, grain and colour.
When timber decking in Rainhill is wanted, speak to the experts. If you are wondering why timber decking has become so popular, contact A Line Fencing. We specialise in many areas of building work and have been in operation since 1998. Timber decking is easy to maintain and they are less likely to sustain scratches and other marks. They are also suitable for wet areas, close to swimming pools or spas. Wood absorbs water quickly and usually, the surface of the decking won't be slippery unless there is dirt on the boards. We will be happy to provide our decking services to build a new decking patio area.  We also offer a repair service and we can help maintain your timber decking and restore or replace existing decking panels and spindles. Change the look of your property with professionally installed timber decking from A Line Fencing.