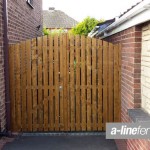 Looking for timber gates in Allerton has never been easier. We can manufacture a timber gate to suit any size opening. We can supply and fit a drive way gate or a gate into the garden. We have standard sizes available which will fit almost all apertures. Our craftsmen can design any type of timber gate you may need for an extra large or very narrow space. We use only the highest quality timber and hinges so that you will never have a problem opening or closing the gate. We can a fit a suitable lock for your new gate if you require it. Most garden gates just latch because of the frequency of use.
When you need to secure your property in Allerton, looking for timber gates is a good start. We have a range of very sturdy and durable gates which have a solid panel front. These are stronger than the slatted gates and do not allow anyone to see into your garden. They are usually fitted with a lock to keep trespassers out. They also provide privacy for the garden as they are often fitted to high wooden fences. The wood our gates are made from is specially treated and our staff can give you advice on additional treatment that can be used for an even longer lifespan. We can supply and fit any sized gate and our gate fitters will make sure that the gates are perfectly balanced for ease of opening and closing.
Looking for timber gates in Allerton can be fun. Contact A Line Fencing today and choose your new timber gate. If you have something special in mind to suit an existing fence we can manufacture the perfect gate for you. Our standard styles are based on the most popular design choices. Some of them are made of slats with gaps between them. These will keep in most pets and are very decorative. Arched tops make them elegant and suitable for any garden.