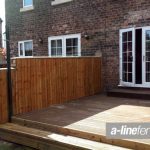 Timber decking in Whiston may be the most used space of a home during good weather. For many, the deck is where they enjoy their morning coffee and evening wine. It's where they fall asleep in the afternoon while reading a book. Some of the most meaningful conversations have taken place outside on that deck. Meals are cooked and enjoyed outdoors because you have a deck. It is the outdoor playroom, especially for messy finger painting and pumpkin carving. Clean up is a snap; just hose it off. Timber decks are popular because they are raised off the ground and level with an exterior house door. You don't have to worry about it sinking in the mud during heavy storms and while vegetation may encroach under the deck, your feet never have to touch it. We all love our decks.
However, some would love a deck more if it were in better repair and some don't have a deck to love but wish they did. In Whiston, timber decking is a speciality and we can help. We stock all types of timber decking and we can build a gorgeous deck for you that blends with the style of your home. If you want to get creative we can offer multi-level decking. Some like multi-level because they can separate the grilling area away from the seating. Guests won't be bothered as much by smoking grills and it's easier to protect children from burns. Maybe your deck is in good condition but you want it larger. That is no problem. We have panel extensions that will give you the extra room to host larger parties.
Timber decking in Whiston, supplied and installed by A Line Fencing, is guaranteed to give you many years of enjoyment. We have years of experience and only use guaranteed durable products. We also supply fencing materials which usually incorporates the placement of a gate. We have found that many like a high rail deck to protect pets and children and they want a safety gate installed for further security. Contact A Line Fencing and let us help you get your deck in top condition with a new replacement or a refurbishment of the old. We can build a deck as large or as small as your space and budget will allow. All of our work and materials are guaranteed.