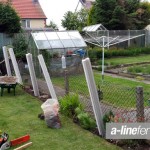 Search for fencing companies in Garston when you need to enclose your property. There are a wide range of styles, designs and materials that can be used for fencing. We can help you to choose a fence that will enhance the look of your property as well as provide security. This will be different with each of our clients and our team are experienced at designing a fence that suits your individual requirements.  Concrete fencing can be very attractive in the right setting. Mesh fencing can be used to keep animals inside a garden. School fencing needs to be erected properly so that it keeps the children safe and secure. Our post and rail fencing can be used to delineate a property where restriction and access to the garden is not an issue.
Protecting your property and ensuring the security of your family is especially important today. In Garston, fencing companies should be selected on reputation as well as price. It is not unknown to pay the lowest price for a project only to be very disappointed with shoddy workmanship and inferior quality material. Unfortunately this is only apparent a year or two down the line. We pride ourselves in offering the highest quality fencing that will last for many years and our workmanship is of the highest standard.
We are one of the best fencing companies in Garston. Contact A Line Fencing today or visit our showroom to see the wide range of products that are available. We offer a number of different garden fences in varying heights that are suitable for enclosing a domestic residence. Our palisade fencing is normally used for commercial properties and we also offer security fencing where necessary.  Our company also offers a paving service and can design and build a deck for your home. We are experienced at laying turf for both domestic and commercial properties. Our timber gates are made specifically to fit any size aperture.  This may be an especially wide driveway or a gate between the front and back garden.