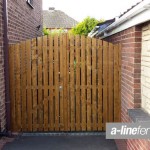 Perimeter fencing is only as secure as the gate, so choose timber gates in Halton from A Line Fencing. We are fencing and paving specialists but we also build hand crafted timber gates in all sizes for all purposes. We also have a selection of our own ready-made with no waiting. These gates are heavy timber; no flimsy thin slices of wood that won't stand up to a storm. We have many styles and designs from which to choose but if you have a design in mind, we'll be glad to build it. We offer treatments to protect your timber from the elements; a little care and the gates will last a long time. Our timber gates are designed and built for security and privacy but the beauty of the natural wood enhances your property.
Double driveway gates are a popular choice when the perimeter of your property is fully fenced. For homes in Halton, timber gates can be firmly secured to existing fencing or we can place posts to secure the gates. Some people have a wide drive that's long and even though the property isn't fenced in front where the driveway is they still want gates. They add a measure of privacy and protection against intruders because while someone could walk onto the property, they can't drive in. The condition of the property adjacent to the gates is usually kept in an unwelcome condition. For your driveway on a smaller property already fenced, low gates keep animals and people from wandering in and basketballs from rolling into the street.
One benefit of timber gates in Halton for fenced gardens is they are hard to climb. Kids see gates as a challenge. You want the lock inside so you choose one requiring strength to open thinking small children will not have the strength to open it. What they lack in strength they make up for in ingenuity. They will get it open. We have solutions for that and one is make the gate taller than the fence so they can't reach the lock. Contact us and tell us where you would like to have a timber gate installed. If your kids and the neighbours play together, you might want a gate in the fence dividing the two gardens. You can buy from us with confidence as you will be getting value for money.