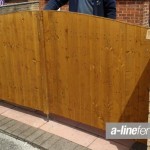 Keep your pets in and intruders or pests out with top-quality garden gates in Billinge. At A Line Fencing, we believe that customers should give a lot of thought and planning to their garden gates. They mark the entrance to the garden, protect your privacy and control access/exit. They can also be a decorative feature that adds charm and elegance, providing a tantalising glimpse of the lovely garden to passers-by and visitors. We offer a wide selection of premium timber gates that are hand-crafted and styled for an extensive range of purposes. Our customers can avail of bespoke solutions, tailored to their needs, taste and budget. Unique gates can be created for any size of openings to back-yards, gardens and drive-ways. We also ensure that suitable treatments are given to the timber for a longer life and better looks. Your gates can be fitted to concrete posts, fencing or timber posts. We can also fit hinges for the gates to swing from walls.
With two decades' experience, A Line Fencing has provided excellent service to customers in the Liverpool, Merseyside, St Helens, Prescot, Widnes and the North of England. In Billinge, garden gates supplied by us are part of our wide range of products that include block paving, timber decking, industrial fencing, wrought iron and decking supplies. We have an experienced, close-knit, professional team that provides end to end solutions for all your fencing needs. Our customer-centric approach has earned us the reputation for a friendly, reliable and highly-skilled service.
When selecting the right type of garden gates in Billinge, it's important to keep certain important factors in mind. If you live in a heritage or conservation area, you may need planning permission to install, repair or remove garden gates. You need to check with the planning regulations in your locality about height, material and type of gates permitted. If you are looking for the right garden gates, contact A Line Fencing. If you use the gate regularly for access, make sure that you install suitable security and locking features. Solid wooden gates offer privacy while decorative ones offer more views. Picket gates are ideal for rural settings.