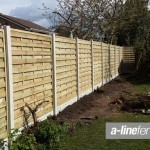 You have options when selecting fencing companies in Lydiate and at A Line Fencing, we respect that. There are certain qualities you expect from a fencing company and we know what those qualities are; that's why we strive always to maintain the high standard expected. Price matters as long as everything else is equal like quality material and first rate craftsmanship. How do you want your fence built? Hopefully you want a level fence across the top and the bottom. But if the ground is not levelled along the fence line the space between the bottom of the fence and the ground will vary. Some spaces under the fence may be large enough to lose a dog or kid under. Like any other building project, preparing the foundation of the fence line is important.
You expect to the fencing company you choose to build the fence you want. In Lydiate fencing companies sometimes offer limited types of fencing. A-Line Fencing specialises in all types so choose the one you want for garden or perimeter fencing. For commercial and industrial clients, we supply steel, mesh and Palisade fencing. For perimeter of private property and garden areas you will like our quality timber fencing panels. Secure your fence with our strong timber gates for safety and privacy. A well-built fence under normal circumstances should last 20 years and with regular repairs and maintenance, even longer. You expect to get value for money and we make that happen for you by building a sturdy fence by professional standards that lasts many years.
A Line Fencing meets the highest standards for fencing companies in Lydiate and throughout the North West. We don't charge for one of the attributes clients look for and that's friendly professionalism. Contact A Line Fencing for a free site check and price quote. Remember, we're here when you need fencing repairs on any section of fencing. Storm damage, vandalism, or wear and tear may create a need for repair. Sometimes damage occurs from kids playing and maybe using your fence for a tennis backboard or crashing toys vehicles into it. We will meet your expectations in all areas of fence installation and repair.