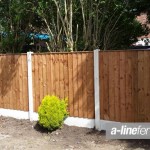 Keep your garden safe and attractive with top-quality garden fencing in Ormskirk from A Line Fencing. From our long years in the business, we understand the importance of a sturdy yet good-looking fence for your property. Garden fences are ideal for marking boundaries between neighbouring properties, distinguishing one part of the property from another, keeping out human and animal intruders and keeping children and pets safe inside. They're your first line of defense and can be fitted with security-systems and alarms to provide warning of breach of security. These fences add kerb value to your home and allow passers by a tantalising glimpse of your lovely garden and buildings. A well-designed fence also provides privacy. We provide end to end solutions for all your fencing needs, right from design and planning, to selection of the right materials and final installation. Our professional team can give you advice and assistance on maintaining your garden fence and ensuring its long life.
While choosing the fence, keep some important aspects in mind. In Ormskirk, garden fencing is available in a variety of materials, finishes and designs. You can select the right one based on your needs, preferences and budget. It's also important to analyse your maintenance capability. If you have the time and resources to conduct regular maintenance, you can select a fencing design that would benefit from it. However, if your property is very large and you can't spare the time, or you don't have the health to take regular care, it's wiser to choose low-maintenance products. Make sure that the fence matches the general style, design and ambiance of the building. If you live in an area that's prone to extremes of weather, with strong winds and heavy snowfall, select the strongest possible materials and strong posts. Installation should be done by trained, licensed and experienced professionals. This is certainly not a DIY job, unless your garden fence is merely for decorative purposes.
Top quality garden fencing in Ormskirk is available from A Line Fencing. Contact us today for more information and an affordable quote. We will also come to your site to determine the most suitable type of garden fencing for your needs. Our skilled team are experts in the supply and installation of quality garden fencing.