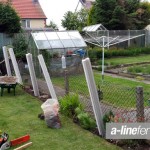 Having your property delineated by a boundary fence in Burscough can be ornamental or practical. With our fencing it is often both as our fencing is made to stop unwanted access to your property while still looking attractive. The old saying of good fences make for good neighbours is very true. However much you like your neighbours, you still want a modicum of privacy from all eyes. The fences come in a variety of different heights and can be installed to offer complete privacy in one area while having a decorative function in another. You may use your back garden for entertaining and not want to be watched the entire time. Your front garden may be filled with flowers that should be seen and you will therefore want a low fence so that they can be appreciated by all.
One of the most popular garden fences today is the timber panel fence. In Burscough, boundary fencing will provide privacy where homes are close to each other. There are many styles of fencing available with gates that will enhance the appearance. The posts can be timber or concrete depending on the customer's requirements. Each customer has their own unique requirements as to a boundary fence and we can supply whatever is wanted. The fence can also enhance the property and add value to your home. It can also be installed to keep pets in and make the property secure. We also offer a service in paving for patios and driveways or garden paths.
We supply a wide range of boundary fencing in Burscough for both the domestic and commercial market. The requirements of the commercial sector are usually quite different to the domestic section. They need added security as do not want their yard obscured. Contact A-Line Fencing today to make an appointment for one of our experienced team to visit your property and offer you sound advice. Palisade fencing is open to view but difficult to get through and is most often used around parks and schools.