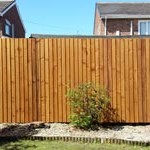 With boundary fencing in Lydiate you can be sure that your property is properly secured. We have a wide choice of materials to choose your perfect garden perimeter whether for privacy, security or just delineation of the property. The wooden panels that we supply are made of high quality sustainable timber and provide a lovely natural look. They are strong and resistant to the sun and rain. They are easy to replace if they are accidentally damaged. The mesh fencing is ever popular as it provides an open feel to the garden while still restricting access. It is perfect for a front garden to keep dogs inside the property while allowing the beauty of the garden to be seen by everyone. The height of the fencing is up to the individual and can be low or very high.
When you want to be sure that intruders cannot easily access your property in Lydiate, boundary fencing can add a physical barrier to your home security system. Our palisade fencing can be used in domestic as well as commercial applications. Many schools use the palisade fence as it is particularly secure and while securing the property still allows an open view of the outside.  Concrete fencing is very durable and normally lasts for many years. It is impervious to rot and insect attacks and will provide perfect privacy for a back yard where you want to be able to hang your washing up or have a get together with friends in private.
Our boundary fencing in Lydiate is made of the highest quality materials. Contact A Line Fencing today and let our experienced staff help you to choose the perfect fence for your property. Our team will advise you on the different timbers and styles that are available. Our specialist installers will make sure that your fence is correctly fitted and will also install the garden gates required for access to the property. They take great care to ensure the gates are hung correctly to allow ease of opening and closing. They can be made to fit any aperture from narrow side gates to really wide driveway gates.