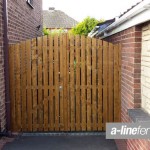 Find a huge selection of garden gates in Gateacre at A-Line Fencing. Customers who are interested in purchasing quality fencing for their properties will be pleased to know that the fencing that we supply are made of the highest quality, and are suitable for a number of purposes, including but not limited to industrial purposes, commercial and residential. Nowadays, it is a lot safer to install robust gates to ensure that no intruders trespass on your property, either on purpose or inadvertently. A garden is a cheap and affordable precautionary measure in protecting your home, and your privacy.
At A-Line Fencing, we supply and install durable and long-lasting fencing, and top quality gates as well. In Gateacre, garden gates made of timber will be a great addition to your home. If you are not too sure about the type of gate that you should fit, please get in touch with our professionals. We have gates and fencing specialists who will be pleased to advise you and provide you with useful recommendations. Besides supplying and installing a variety of products, please note that we can also repair any sections of your fencing that is worn out or has been vandalised. And if you are looking to have them completely replaced at an affordable price, don't hesitate to talk to us. Our quality garden gates are styled and hand crafted to your requirements. No matter if you need a specific sized driveway gate, or the supply and fit of a garden gate, you can rest assured you'll receive a quality product, and at an affordable price.
We have a wide range of garden gates in Gateacre available for your property. You can choose one of our ready-made timber gates, or if you have specific requirements, we can manufacture a gate that meets your needs. For more information about our available garden gates, or for more information, contact A-Line Fencing. Revamp the look of your property with of one of our many charming garden gates!