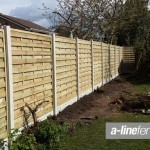 Boundary Fencing in Newton le Willows is an excellent way to increase the security of your property. Not only will this fencing keep your home safe, but will also add value to your property. Studies have shown that the market value of a property is significantly higher if has boundary fencing compared to those that don't. Another valid reason for installing boundary fencing it the aesthetic value. Imagine how neat your property would look with a professionally installed fence around the perimeter.
For homes in Newton le Willows, boundary fencing is a clear way to demarcate your property. With a sturdy and long lasting fence, you can be sure that your children and pets will be safe on your property. It also means that you minimise the presence of unwanted intruders, including the neighbourhood dogs. If you are consideration the benefits of a secure perimeter fence for your property, why not speak to A Line Fencing? We have different options of fencing you can choose from, including wooden fencing and fencing made from concrete, mesh, palisade and steel security fencing. The most popular, and an attractive option, is our wooden fencing. We have many years of experience in this sector, and have been providing our customers with top-quality fencing and service. You may have different needs and perhaps require a boundary fence of a specific height. Speak to us about how the boundary fencing you prefer and we will provide the most suitable fencing for your needs.
Boundary fencing in Newton le Willows is best purchased from a professional company. If you would like to enquire about our different available options for boundary fencing, contact A Line Fencing. We also happy to provide free advice and guidance about the most suitable type of fencing for your property, the different timbers used, and the available wooden fencing styles. Speak to us about an affordable quote and benefit from the many advantages of a well-made boundary fence. We also offer timber gates that can be constructed to fit any sized opening, and will complement your new boundary fencing.