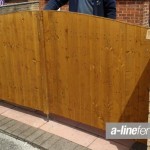 Explore the different options for lovely garden gates in Lydiate at A Line Fencing. If you are putting up a perimeter around the land you own, you will also want to get garden gates to serve as entry and exit points to the area, and control who enters the property. At A Line Fencing, we have a large variety of garden gates that you can choose from, all designed to complement the different types of fencing panels that we have in our stock. All of our timber products are treated to prevent rot and decay.
When you are purchasing your panels and garden gates from us, our team will assist you in every aspect, including installing the garden accessories. In Lydiate, garden gates can be manufactured as per your desires. Whether you are looking for low-level garden gates that offer greater visibility or modern and contemporary styled garden gates or large gates that offer maximum security and privacy, you can count on us to deliver amazing and long-lasting products. You can also find quality, hand-crafted timber gates that are built specifically around your needs and requirements. When you choose our company to carry out any wooden work for your garden, it's assured that you will have a beautiful finish when we have completed all the work. Before you put up any sorts of perimeter or garden, you are more than welcome to pay us a visit and check the different types of panels and gates that we can offer. We have built our business on our customers' satisfaction and we have no doubt you will find something that suits your needs and requirements.
Increase the security of your property by installing quality garden gates in Lydiate. We offer various types of fencing and gates that are ideal for many different types of properties, including schools, homes, offices, companies, and large commercial properties. To find out more about how we can assist you with garden gates, contact A Line Fencing today. Change the look of your property with a beautiful, top-quality garden gate.