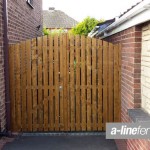 Timber gates in Prescot from A Line Fencing offers you some options you may not have considered. When we install your garden fence, you'll want a gate to complement the fencing that provides the security you want and need. You want the finish to match the fence and coordinate well with your home exterior. But you may want to consider more than one gate to safely secure your property. If the layout of your property fence includes only the back garden, you may want a gate on both sides of your home. If you have a side door, bring the fence line forward past the side door and fit a gate to span the space between fence and house. That will provide extra security at a vulnerable side door.
When you choose to fence the entire perimeter of your property your first thought may be to stop at the side driveway. But in Prescot, timber gates can be installed across your driveway and attached to the fencing on one side and property line post on the other. Your homes kerb appeal will instantly be upgraded. Even if the fence and gates are four or five feet high they still serve as a deterrent to trespassers and stray dogs. The driveway gates will look great open or closed so you may want to leave them open at times for convenience. Close them and you have a hard play surface that is safe for little kids to ride their three-wheelers and big kids to play ball games. It will help keep kids and balls out of the street.
Timber gates in Prescot can be as subtle as you choose. We can make our timber gates to blend into the fence so it's hardly noticeable. Or, choose from a selection of gate furnishings that add style to your gate with the hinges, handles and locks. Add open latticework or sculpting across the top to add style on slat style or close board gates. Contact A Line Fencing for more about our timber gate products. You'll be impressed with the solid sturdiness of selections. A little swinging on it by the kids won't damage it.