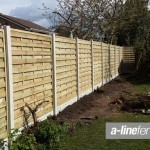 Apart from stonewalls, boundary fencing in Huyton is one of the best ways to demarcate properties in residential areas. After the fencing has gone up, many homeowners plant trees and climbers, especially along the walls. This further beautifies the boundary lines, giving your property more aesthetic appeal. Later on, you may choose to add timber posts as well. This will increase privacy and augment the look of your property. Potential homebuyers will be very happy to see this type of fencing because they would want to feel safe. At the same time, you don't want the fencing to be too high because it's never a good idea to isolate yourself from the neighbours.  At A Line Fencing, we can guide you with height regulations so that your fencing is neither too high nor to low.
For homeowners in Huyton, boundary fencing options are plentiful at A Line Fencing. We're specialists when it comes to fencing. Some of the best gardens in the UK boast our timber fencing. All boundary fencing work is conducted by our team after taking into consideration important factors such as height regulations, property limits and of course your requirements. We strive to ensure that the fencing is installed correctly so as to prevent future disputes about property boundaries. Interestingly, this is a common dispute amongst neighbours. One that can cause great rifts; often leading to lengthy legal disputes. You can avoid this from get-go by placing boundary fencing from the beginning and as stated in your property plans.
One of the best ways to protect your property and beautify it at the same time is with boundary fencing in Huyton. To find out more about our boundary fencing options, contact A Line Fencing today. We'll be more than happy to discuss the plethora of design options that are available to you. Our company has been in operation since 1998. Although we began with our fencing services, we've expanded considerably to include timber decking, block paving, garden gates and industrial fencing. We've recently added railings and steel wrought iron gates too. Do call us for a free estimate.