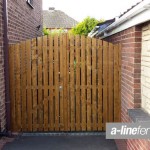 Sagging timber gates in Rainhill detract from the overall appearance of your home. Sometimes when a gate sags it's due to the poor quality of the timber and hinges and other times it's just sloppy installation. Unfortunately, in some instances, it's both. None of that will happen when you choose us for your timber gates. Our gates are beautiful and add to the aesthetic qualities of your home or business. However, that's just a bonus because any gate can look good for a little while. Our timber gates are built to do their intended job which is to protect whatever you want protected. That may be your privacy, pets, children, heavy equipment or treasured vintage car.
Our timber gates are made from heavy timber and built to last many decades. We offer in Rainhill, timber gates in any height to serve your purpose. The gate could even be blended into the fence so well that it's not immediately noticeable to others. We build our gates to your purpose even when there is no fencing. For instance, you have a space between your home and garage with a side entrance into you home. We can fit a gate between the house and garage so unwelcome guests don't wander up your driveway and around to your side entrance and back garden. Depending on how your garage and/or driveway are situated on your property, double driveway gates can make children's play safer, your garage more secure and your property less accessible to intruders.
We have many styles of timber gates in Rainhill at A Line Fencing ready for hanging for domestic, commercial or industrial use. Any one of our standard gates can be customised to fit your existing opening or if you have ideas of your own, we'll build to suit. We have attractive easy open fittings or you might want a stronger one that not everybody can operate. Tall gates may open only from the inside or only the outside, whichever suits your purposes. Contact A Line Fencing for a brochure full of ideas for you to see and all can be modified. Our estimates are free and our prices are fair, so don't put off getting the gate you want.