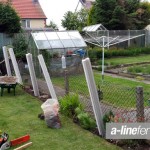 Cheap garden fencing in Garston from A Line Fencing is sturdy and attractive fencing that is affordable. We can help you select from our styles and selected timber as you plan your garden fence to suit your needs. Naturally, the higher and longer the fence the greater the cost. However, even if you want a high privacy fence for your garden, we can accommodate your wishes at a very reasonable price. You will be surprised at the quality and durability of our fences. When our team does the installation, you can expect a solid straight fence that will withstand years of whatever the elements can throw at it.
Perhaps you already have a garden fence that's starting to show its age and needs replacing. In Garston, cheap garden fencing can be installed to the same height or change it altogether. However, if much of the fence is still strong, we can repair the fence you have and make it look like new. You could get another ten years or more out of that fence. We can't do much with the fences built from flimsy wood slats and built using inappropriate materials like short thin nails or even worse staples. It's amazing some of the shoddy workmanship we've seen. Likely those builders are nowhere to be found these days. You probably want a nice level fence which takes a little more care to install and that's what we do.
We have cheap garden fencing in Garston to add a decorative border to your garden that keeps the view open but the kids and dogs safe inside. For privacy fencing, our fence panels will allow you to see natural timber bordered by plants instead of your neighbour's trash cans, junk car and snarling dog. No matter what surrounds your property, you can turn your garden into a private retreat. No need to concern yourself with whatever is going on outside your fence. Contact A Line Fencing and let us give you a free quote on the garden fencing solution of your choice. We have a variety of panels from various timber but we can also do a free build. You'll want to add our solid wood gates as well.