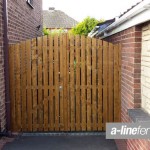 Add charm and value to your property with our top-quality garden gates in Prescott from A Line Fencing. We're happy to provide clients with a diverse range of building works, though our USP remains fencing. We started operations in 1998 and since then, we have diversified into block paving, timber decking, industrial fencing, garden gates and steel/wrought iron gates and railings. Over the years, we have put together a highly experienced, professional team to work on paving, fencing and timber decking services. Our client base extends throughout the Liverpool, Merseyside, St Helens, Prescott, Widnes and the North of England. Our services are available 365 days a year. We maintain excellent professional relationships with paving, fencing, timber and wrought iron suppliers in Liverpool so that our products and services match the best industry standards.
When installing garden gates, it's important to partner with an experienced, professional company. In Prescott, garden gates supplied and manufactured by us match the highest levels of quality. You can select options like timber or concrete posts, or we can attach wall fixings for the gates to swing from. No matter what the size of your timber gates, we can help you get them installed. To find the right fencing company, take the time and make the effort to research all the available services.
Once you've selected a company to install garden gates in Prescott, you can plan and design the fence according to your unique needs, preferences and budget. Traditionally, wooden gates have been the ideal choice, as they blend with the natural setting. Avoid large pillars or posts as they distract from the simplicity of the design. Garden gates are meant for practical and decorative purposes. They control access to certain areas, demarcate the boundary between the street and your property and/or they provide you with a private space.  If you are looking for a professional company that supplies top-quality garden gates, contact A Line Fencing. Though many people would love to make a DIY project of it, unless they have the expertise and experience, it's a job best left to the specialists.