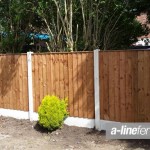 V board fencing in Whiston addresses, with one fence, multiple objectives. You probably want a nice looking wood fence and V board fencing is a very attractive fence, especially for homeowners. This kind of fence will definitely add value to your property as well as kerb appeal. If you need to share a fence, V board works best because it's attractive from both sides so your neighbour shouldn't complain about having to look at the back side of your fence. Maybe you could get him to go halves with you. If you want a good-looking fence that offers privacy, the overlapping boards of a V board fence definitely provide that benefit. You want a peek of light between the vertical boards because that allows air to flow through which helps wood dry out faster after a storm.
Naturally, you want a strong durable fence that won't need replacing for many years. In Whiston, V board fencing is the strongest of wood fences when we do the installation. We start with strong cedar, oak or pine that is tanalised to prevent wood rot and warping. The fence posts are dropped very deep into the ground to maintain the strength and stability of what is essentially two fences built back to back. The overlapping boards double the weight so sinking those posts deep is necessary to support the weight of the fence. You won't need to replace this fence. Years from now when it needs perking up, we can refurbish it wherever needed. The strength of the fence also insures more security, depending on the height you choose.
V board fencing in Whiston, built and installed by us gives you tremendous benefits for your money. We'll install gates to match with strong latches and locks so what is yours stays safe within the fence. It will protect pets and children from wandering and also act as a deterrent to trespassers. Contact A Line Fencing for a quote on V board fencing. Professional installation is an important factor in the longevity of your fence. We prepare the fence line so your fence is straight, level and solid. Go ahead and shake it; it won't move. If somebody tries to drive a riding mower through it, we're here to make it look new again.