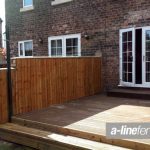 By installing our premium quality fence panels in Huyton, you can avoid costly mistakes, wasted time and effort. At A Line Fencing, we ensure that we tailor our products and services to match your needs, preferences and budget. We have several decades' experience in providing services to both domestic and commercial clients. We also supply and install a comprehensive range of paving, garden gates, decking, steel and wrought iron gates and railings, turfing and timber gates as well as a wide selection of fencing products. We began operations in 1998 as a firm dedicated to fencing products and installation, so that remains our core business and area of expertise. We have a close-knit team of contractors in Liverpool with whom we have well-established relationships and they partner us in providing top-quality workmanship and materials.
Our client base extends throughout the Liverpool and Merseyside areas, St Helens, Widnes, the neighbouring areas and beyond. In Huyton, fence panels products supplied by us include industrial and steel security fences, palisade fencing, mesh installations, and timber. We can also conduct emergency repairs on vandalised fences and school fences or replace them if necessary. We also conduct repairs and maintenance for fencing, no matter how big or small the project. If our clients need assistance with removing trees, bushes or trimming deep roots of trees without damaging your fence, we're glad to be of assistance. Our contractors will ensure that they do a complete job, including cleaning up the premises and disposing of waste before they leave.
It's important to get the dimensions and materials right when you plan the installation of fence panels in Huyton. Remember that fencing panels were originally manufactured using imperial measurements and they're still available in these. If you are looking for quality fence panels, contact A Line Fencing. UK planning regulations limit the height of fences to six feet and anything over this measurement requires special planning permissions. You also need to firm up on the need and purpose of your fence. Some are for demarcation, while others are installed for security, deterrence, privacy. The location is also important because factors like weather and exposure to strong winds can be a deciding factor.