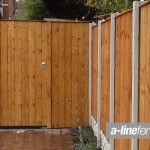 What do you look for when you think about wooden fencing in Merseyside for the fence around your property's boundary? Although there are several other options, wooden fencing has a number of advantages over other types of fencing. Other than being a timeless piece of art that will stand the test of time, meticulously manufactured wooden fences offer decades of security when installed by a professional contractor. And seeing that it will last you years, wooden fences don't require as much maintenance as you can imagine.
An excellent decorative option for any property in Merseyside, wooden fencing also has other benefits. What's more, is that this fencing is an eco-friendly choice as the fence material itself is sourced from ethically managed woodlands. Apart from being easy to install and maintain, it would also one of the most affordable materials for fencing when compared to iron, aluminium, and steel fences. Wooden fencing also brilliantly blends in with virtually any kind of setting and is pretty simple to customise. Wooden fencing has a plethora of varying sizes and styles. So if you're thinking or have also decided to invest in wooden fencing for your own property, it would be best to get in touch with us today. If you have any questions along the way, we will be more than happy to answer them for you as well as offer any advice and suggestions about the most suitable timber and style for your fencing.
When you contact A Line Fencing, you will find nothing but competitive prices for wooden fencing in Merseyside. You get the most value out of your investment when you come to visit us and inspect the various wooden fencing styles that are available. Our handcrafted timber dates are suitable for those who prefer a garden gate or maybe even driveway gates. Not only that, but we also provide protective agents for your timber. We are open every day of the week and will assist you with your requests. If you're looking to replace or repair an old wooden fence, you can count on our services.