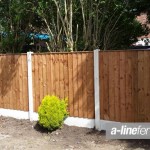 You can find fence panels in Lydiate that are both well made and affordable when you use the right company. Before you install a new perimeter fence, consider the type of fencing material you would like to use. Of all the fencing materials available, concrete, galvanised fencing and mesh fencing included, none are more attractive than a wooden fence. Wooden fencing has numerous benefits, all of which only add to appeal of this type of fencing.
For your property in Lydiate, fence panels constructed from timber are best sourced from a reputable supplier. To ensure that your new perimeter fence is long lasting, strong and impervious to rot and insect infestation, it is a good idea to choose fence panels that have been tanalith treated. Wooden fence panels are also considered the environmentally sound choice. Wood can be recycled and there are no dangerous chemicals used in their manufacture. When you are looking for top quality fence panels for a new perimeter fence, we invite you to pay us a visit. We have a large range of fence panels for you to choose from. You will also notice that our process are affordable, and the quality of our fence panels wins hands down.
Choose wooden fence panes in Lydiate for your new perimeter fencing. We would be pleased to install your new fencing. Our expert fitting team are experienced and know just how to install a new fence so that it remains sturdy and secure for its lifetime. Should you need your fence panels to be a certain length, let us know and we will be happy to cut them your specific requirements. For more details about our fence panels, contact A Line Fencing. We also offer other necessary parts to complete your new perimeter fence. Have you considered how a new driveway or garden gate will add aesthetic appeal to your fencing? We have a range of fabulous gates on offer. Our team also provides a repair service, should it ever be necessary. Here they will remove the damaged fence panel and replace it with a brand new panel.