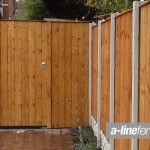 Garden gates in Wavertree, together with robust fencing are an excellent investment for your residential or commercial property. We know that the role of your gate may be to keep animals and some people out and others in, but it should always look attractive too. Our beautiful timber gates are an investment and we want them to look good for you year after year. They're hand crafted to each of our customer's specific requirements. They are also effectively treated so that they are well protected against the British weather. Using quality microporous stains or paints that contain a UV filter, we make sure that your beautiful garden gate is also protected from the sun day after day.
You'll find us in Liverpool, Merseyside, and because we were established in 1998 already, you can rely on us for our professionalism, our quality products and our excellent customer services. In Wavertree, garden gates are not all we can offer you. We may have started out as a fencing company, but we've slowly expanded, and we now also offer timber decking, industrial fencing, block paving as well as iron gates and railings. Our team of Liverpool contractors are also available to you every day of the week throughout the entire year.
We're experts with gates and fencing, and when it comes to customised garden gates in Rainhill we design, supply and fit them. It doesn't matter what size driveway you have, we've got the know-how to provide you with the garden gate of choice. We have all the fencing, the posts and accessories you need too so that all that is required for your gates is for them to swing open and welcome you in. Contact A Line Fencing if you are looking for well-built, sturdy and attractive garden gates for your property. Check out the wonderful range of gates we can install for you and call us if you're looking for expert, trained contractors who treat every job, large or small, with the same amount of expertise, experience and enthusiasm.