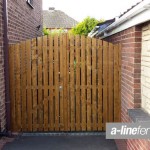 Select the right timber gates in Childwall from A Line Fencing to protect your privacy and your property. We're pleased to offer a comprehensive range of top quality fencing, gates, decking and turfing to suit your unique requirements. We have more than two decades' experience in providing the best products for building and construction industry needs. Our client base extends throughout the St Helens, Merseyside, Prescot, Widnes, the North of England and beyond. We are open 365 days a year, 7 days a week. No matter how big or small your project, we are glad to help you with it.
When you are upgrading your property in Childwall,  timber gates offer not just functionality but also aesthetic appeal too. They give your property a look  of class while fulfilling all the functions that a gate is supposed to. Sturdy, well-built gates keep out intruders, control access and also keep those inside safe. If you have children, pets and seniors, it's important to ensure that they are secure within the boundaries. Timber gates don't look as stark and forbidding steel or iron gates. Instead, they have a rustic charm and are relatively easy to maintain. Wooden gates are versatile and can be adapted to match any style – countryside, urban chic, or functional. Mixed with wrought iron, they can match the classic look of a heritage property.
There are many finishes that you can give to timber gates in Childwall. You can paint or stain the timber and apply a protective coating to ensure the longevity of the gates. If you are looking for top quality timber gates for your property, contact us today. We ensure that all wood used by us comes from environmentally sustainable responsible forestry. These wooden gates are tough, sturdy and good-looking. They can withstand the vagaries of British weather and all they need is another touch of polish or a lick of paint to get them looks as fresh as new. High quality wooden gates give your property kerb appeal and can also enhance the value of your property. Though they may cost a little more than aluminium or metal, there's nothing to match them for style, beauty and functionality. Our expert team can help to install your wooden gates too.