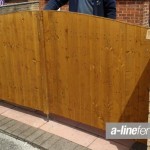 By putting up high-quality fencing and garden gates in Wavertree, you can easily add value to your home. A sturdy fence with a lockable gate adds a sense of privacy to your yard. It makes you feel safe, allowing you to walk around in your yard in shorts or pyjamas freely. Peeping toms and nosy neighbours have forced a lot of people to spend the bulk of their free time indoors. Many families in the North West are conservative and enjoy the comfort that comes with private space. As such, wooden garden fencing and gates are very popular in the region. Unlike chain link fences, the wooden planks prevent people from looking into your garden.
A well-built garden fence and gate can also be a boost to your security. In Wavertree, garden gates discourage vandalism significantly. This is because the vandals cannot tell what lurks behind your locked gates. You could have anything in your yard, from motion-sensitive CCTVs to military-trained guard dogs. If they cannot see into your yard, most burglars will not try to break in. The garden gates protect you from loss in more ways than one. While keeping intruders out, they also prevent your kids and pets from wandering off. Feisty pets and small children get distracted easily.  Kids can suddenly jet off running after a ball or toy. Likewise, pets such as dogs and cats love to chase each other around. If your garden is not secured, your kids or pets can run into the road without warning, potentially causing an accident.
In addition to garden gates in Wavertree, we provide fencing, paving, turfing and decking services to all our customers in the North West. Our quality for all these services is unmatched and we have a long list of happy customers to prove it. We have been setting trends in the regional fencing industry since 1998 and are still going strong. Contact A Line Fencing today for more information about our services and rates. Our friendly staff is happy to receive and work closely with you until your desires are met.  We are open to serve you seven days a week all year round.