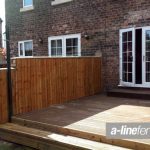 When planning to install a new garden fence, fence panels in Lydiate from a reputable source is a must. There a number of benefits to using timber fence panels for your new garden fence. Wood is timeless, and by using wood or timber fence panels, you can create a beautiful perimeter fence for your property. Whether you are fencing only a certain section of your property, or the entire area, the fence panels that you use should be of the highest quality. Properly treated wooden fence panels will last, providing the security and aesthetics you want for your property for years.
Wood is one of the most popular materials for fencing. In Lydiate, fence panels made of timber are also an affordable option. This especially true when you purchase your fence panels from our team. We work primarily with timber fencing, and fence panels, however, if you are looking for something suitable for your business premises, we can also assist. Our fence panels are treated to ensure they do not rot or decay. They are also treated against insect infestation. Moreover, they look good, so if you are planning on installing a new garden fence, remember the benefits of a timber fence panels. The timber we use for our fence panels are responsibly sourced. Our prices are affordable too, so why not request a quote today for your fence panels?
Choose your new fence panels in Lydiate from an expert team. We can cut them to the required size, according to your measurements. If you are hesitant about installing your new fence panels, you can rely on our installers to install your new fence. They will do so effectively and efficiently. Looking for new fence panels for your new garden fence? You are welcome to contact A Line Fencing today for more information. Our expert team also provides a fence repair service. If your garden fence is damaged and needs repairs, we are happy to remove the damaged fence panel and replace it with new, strong panels. We are happy to assist you with new fence panels for your garden fence at affordable prices.