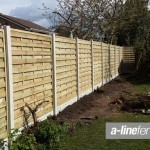 You can find cheap garden fencing in Rainhill when you visit a highly regarded fencing company. Deciding on fencing for your garden takes thought and consideration of cost, quality and installation. With us, you will receive all three items on your checklist. With our range of garden fencing, you'll find the right type for your property. We offer timber fencing panels, as well as security, palisade, post and rail, concrete and mesh fencing, all of which are carefully manufactured to ensure top quality options. Speak to us about your requirements and let us assist you in choosing your new garden fencing.
Regardless of the size of your property in Rainhill, cheap garden fencing is necessary. In today's world, the cost of living is high and it is wonderful to find a company that offers top quality fencing options at excellent prices. Our timber fence panels are our most popular offering. Sourced from responsibly grown woodlands, and tanalith treated for strength, you won't find better than our timber fencing options. Or if you prefer, we also offer concrete fencing options for your garden. Equally strong, expertly manufactured, you will receive years of use from this type of fencing. We are also able to provide an installation service. If you were concerned about installing your new garden fence, you can rest assured that our installation team will expertly and efficiently install your new garden fencing.
Find cheap garden fencing in Rainhil when you pay us a visit. We are open every day of the week from 7 to 9 for your convenience. Offering expert advice on top of our quality products and great prices, we aim to provide an exceptional service to all our clients. If you are searching for quality cheap garden fencing, don't hesitate to contact A Line Fencing. Along with cheap garden fencing, we also offer a range of sturdy, well constructed garden gates that will match your new garden fencing. Speak to us about our range of gates and choose one that will match the overall look of your property. As well as our extensive range of fencing products, we also offer a repair service, should it be necessary.