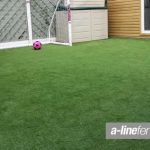 We offer the additional service of turfing in Haydock. You may know us for our quality fencing products and professional installation. Now consider us when you are ready to enjoy a beautiful green garden in less than 24 hours. We can install our quality turf for the average sized garden in one day. We install only fresh cut stock from suppliers of proven quality products. We may be able to install the turf in one day but you want it to put down deep roots and stay healthy for years. With proper care and maintenance, you'll have the garden you dream of. If maintenance is not your strong suit, we have good news. We also stock and install an excellent quality artificial turf. It stays green all year and never has to be weeded, fertilised or mowed.
If you can't decide on the best choice for your lifestyle, natural or artificial, we may be able to help you make that decision. If you've never been a gardener, in Haydock, turfing with natural turf could still be a good choice for you. If you have the time and willingness to learn the basics of garden lawn maintenance, you might find you enjoy it. If that's just not you, perhaps you would find hiring a gardener for maintenance will fit your budget. Our turf is hardy and can stand up to children, pets and garden parties. You will be able to enjoy your garden as a retreat from the work week without it being your weekend job. Some find gardening therapeutic but if you are not one of them, you can still have a lovely garden.
For some of you, turfing in Haydock with natural products isn't really something you prize. You want a green lawn and hardy play area for the children, but you don't want to put in the maintenance time yourself or pay anyone else to do it. We have your solution. We install artificial turf that has all the natural looking beauty of natural turf but without the maintenance. It can stand up to kids games and still provide a beautiful retreat for adults. We stock a top quality product and our professional installation will ensure an excellent finished look. Contact A Line Fencing and tell us your preferences for turfing for your garden. Whichever you choose, natural or artificial, we guarantee your satisfaction.