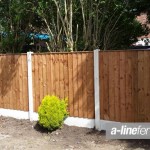 Wooden garden fencing in Childwall may be a home addition that you've been considering. It's certainly an excellent investment in your property. A Line Fencing specialises in garden fencing and we can offer you helpful advice as you consider your options. Our fencing panels are beautiful and durable making an attractive addition to your home. However, the stability of the fence depends on the workmanship of the fence installers. We are professionals at A Line Fencing. When we install your fence you will see straight lines and a fence so well anchored that it can withstand the fiercest of weather for many years. We guarantee our products and our workmanship. Our experience is evidenced by the results you see as you look across your garden at your new fence.
Have you decided what you would like your fence to look like? In Childwall, wooden garden fencing from A Line Fencing presents several options. We can help you with information about the various types of timber and fence styles. Once you make that decision we can transform your garden into a private retreat for you and your family. After busy days working, dealing with people and traffic, it's nice to settle in your own private garden away from the busyness and noise. The kids and dog can play without safety worries and you can enjoy a nap or private family conversation without outside interruptions. Landscape your fence line a little or a lot depending on your love of gardening.
Another benefit of wooden garden fencing in Childwall for homeowners is the added security. Your fence serves as a deterrent against intruders. We build extraordinary garden gates with secure locking mechanisms. For added security, place the lock only on your property side. Another option is to secure the fence to the house on both sides so garden entry must be through the house. Contact A Line Fencing if you're thinking about wooden garden fencing. There are several important decisions to make before work can begin. We can help you work through your options and reach the best choices for your garden fence.