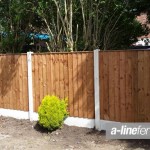 Picket fencing in Halewood is in high demand to define your garden area with decorative good looks. Constructed from timber, you can paint or stain picket fences any colour you choose or simply seal the wood in its natural colour. White picket fencing is popular but consider matching the fence colour to your house trim. While we do specialise in timber fencing and garden fencing, we also build fences for commercial, industrial, schools and security facilities. So for these purposes, steel and mesh are useful fencing materials. However, picket fencing can be made of steel. The pickets are square lengths capped by spear points and powder coated. These picket fences made from metal are often much taller than the average 4' garden picket. While they do provide security, they don't provide privacy.
Homeowners who choose picket fencing for their garden find it to be ornamental and an attractive way to define borders. For those in Halewood, picket fencing does not provide privacy but there is a level of security for pets and small children. You can choose the height you want so for a little extra security add another foot to the pickets. It will keep most dogs and kids from jumping the fence and deter trespassers. We recommend levelling the top of the pickets rather than sharp points for the sake of child and pet safety. If you like the picket style fence but really want privacy too, it's possible to achieve. A double-sided picket fence is offset just enough to block a clear view. If you don't want the view interrupted then stay with the traditional open picket.
Whatever style of picket fencing in Halewood you choose, you likely only want to install it once. You can trust our experience, workmanship and heavy-duty timber fence panels to withstand the test of time and the elements. But the posts must be sunk deeply enough and the fitters have to use the proper fittings for your fence to last and maintain its sturdiness. Our reputation rests on quality construction. We have many years of experience and an enviable reputation. Contact A Line Fencing for a free quote on picket fencing for your garden. If you already have a fence that is in need of refurbishment, we can restore it to like-new condition.