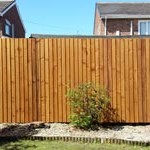 Others say they sell heavy duty fence panels in Huyton, just as we do at A Line Fencing. We've found that the term 'heavy duty' means different things to different people. Unfortunately in some situations, it means nothing at all.  At A We want to clear up what 'heavy duty' means. It turns out that the solution is as simple as taking a tour of our past work. Is it still standing? Is it still straight? Are there any loose or broken boards? Have nails popped? Does the fence still look good? If you can answer yes to all those questions, then you are looking at a heavy duty fence. Now, if you think heavy duty means premium prices then you need to talk to us. We build and install heavy duty fence panels at very competitive rates.
Our quality timber fence panels do not wave in the breeze as some of those very flimsy fences you see; one panel leaning back and another forward. We know that, in Huyton, heavy duty fence panels are only part of the equation. We start with solid quality timbers and build our fence panels with experience and conscientiousness. We use fittings that won't loosen or corrode and we use enough to create a sturdy fence panel. Another factor is preparing the ground line and sinking the fence posts straight and deep. The sturdy qualities of the fence panels is then further enhanced when properly attached to the fence posts. Now we've created a unit that can withstand time and the elements.
Heavy duty fence panels in Huyton is just the start of a truly durable fence. The quality workmanship has to be there as well, and at A Line Fencing, it is. Do you need a garden fence, a perimeter fence to mark your borders, a privacy fence or a security fence? Whether domestic or commercial, the methods for achieving durable and attractive fencing are the same. Contact us for a free quote on your fencing project. We will show you the quality of the timber we'll be using and put our guarantee in writing for you. You are likely going to need a gate and we build the very best. In the event that a tree falls on your fence or some such thing, you'll be glad to know, we also repair fences. You'll always know where to find us.