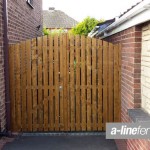 Garden gates in Wavertree are one of our specialities at A Line Fencing along with fence building, turf, decks, driveways and patios. The work we do is for all sized properties. Sometimes, the smaller your property the more you need privacy. Maybe people are using the pass between your and your neighbour's houses as a shortcut. One of our timber gates between houses would put a stop to that. It would also keep your children safer from the street in their own back garden. Good fences make good neighbours but what if they're also yours and your kid's friends? Maybe you worry you'll offend them even though you crave some privacy from their eyes. We have the solution for that. 
Put in one of our beautiful garden gates between the two properties for friendly back and forth. For friendly neighbours in Wavertree, garden gates can be locked in the event familiarity someday breeds contempt. If your property is fenced to keep the children safe but you want more play space, consider using the driveway. Our double driveway gates will close off the gap through which children and balls escape into the street. Beautiful timber gates in your choice of design is a marvellous asset to the kerb appeal of your home. The gates could blend seamlessly with your fence or if you prefer something more ornate, we offer a huge selection of attractive furnishings for hinges, locks and handles.
Our garden gates in Wavertree are handcrafted to the size and style of your choice. We offer standard sized gates as well and you may find just what you need in our brochures. Whichever you choose will be made to last from strong timbers and quality hardware. Our gates are professionally fitted to any sized opening. We can attach them to concrete posts, fence posts or right to the building. Our gates remain level and free swinging for many years so your home projects a well-maintained appearance. Contact A Line Fencing for a free quote on garden gates for your property. If you want additional security consider having gate locks only on the inside. That will eliminate unexpected visitors.