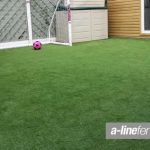 If you are planning on lawn turfing in Gateacre, A Line Fencing has a team of experts for the job. There are few home improvements that can dramatically transform the appearance of your property in 24 hours. Turfing is likely the most dramatic. Your lawn can go from a scruffy unkempt patch to a luxurious healthy lawn usually in one day if the weather cooperates with us. If you are creating a lawn from scratch we need to remove the top layer and work some nutrient-rich topsoil into the ground. The turf we use is freshly cut within 24 hours of installation. The best time of year to lay turf is in the fall when the soil is likely still warm and moist from summer but temperatures are cooler and weather is rainier so you don't have to hand water as often. 
We can, of course, install turf throughout the spring, summer or autumn. However, in Gateacre, turfing in summer will require frequent watering. If you live in a drought prone area or where water is restricted, keep in mind there will be more frequent watering needed. A lack of water creates stress for the new roots, making it a bit harder for them to thrive. The less mowing in the early stages is better but if the grass does grow quickly, as it will in spring and summer, keep your mower set on high to protect the young roots from drying out. If you limit the foot traffic on your new turf for a while, you will have a green healthy lawn that will endure for years. We can help you choose the best type of grass for your use.
Perhaps you want new turfing in Gateacre but you have no interest in maintenance. That is not a problem for our team. We also install artificial turf that will transform your garden with a beautiful green lawn that will last through all seasons. You won't have to mow or fertilise or weed your artificial turf. You only need to hose it off once in a while. If water is in short supply, this is the best option for you. Contact A Line Fencing for a free quote for turfing. We guarantee your satisfaction. Consider us for your garden fencing, paving, decking and timber gates as well.