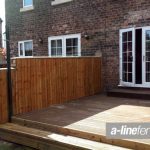 Picket fencing in Childwall can make your property look even more attractive, prosperous and well maintained. We are proud to offer the most competitively priced, top quality fencing products to suit your specific requirements and budget. No matter how big or small your requirement, we're glad to be of assistance. As a local company, it's our priority to stay in sync with the prevailing trends and demands in the communities we serve. We offer a comprehensive range of fencing products to both domestic and commercial markets. We specialise in garden and timber fencing but we also provide excellent industrial and steel security fencing, school fencing, concrete fencing, palisades and mesh installations apart from gates and post and rail fencing.
For homeowners in Childwall,  picket fencing gives your property a charming, serene, classic look that will make it the centre of attraction in your neighbourhood. It is also a great feature to enclose certain parts of your garden to separate it from the main one. Flowers, climbers and creepers look very pretty against the background of a white picket fence. It sets off a beautifully manicured lawn and garden, giving your home the best kerb-view.  But picket fences are not just about looks – they are functional, protective, sturdy and inexpensive. They can also add value to your property if you plan to rent, lease or sell. Though installing one is relatively simple if you're a DIY enthusiast, it's wiser to get professional help with installation. Our team of highly trained, reliable and experienced technicians can complete the job for you.
Picket fencing in Childwall is easy to customise according to your requirements. Our professional fence fitters can give you the right advice and assistance. You can choose the size, colour and height to match your home and property. Wooden fencing is a great option that blends well into your garden and is biodegradable, unlike synthetic materials. Contact A-Lline Fencing for all your fencing requirements. We maintain good connections with top-quality suppliers of fencing, paving, decking and wrought iron in the region and our team of Liverpool contractors have worked successfully together for the benefit of our customers.