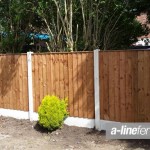 For excellent quality wooden garden fencing in Rainhill, use the services of an expert fencing company. A well made and robust perimeter fence makes all the difference to your property. Not only will you have excellent security and privacy, but it will increase the value of your property. We offer excellent value for money services, the best quality fences and the highest level of customer satisfaction possible. Our fences are made to perfection by our team of experts and will impress even the most discerning customer. We offer a wide range of fencing solutions for any fencing requirement you have, and we do it with expertise and professionalism.
If you own a property in Rainhill, wooden garden fencing is an important part of its completion. Choosing the right fence is important. Our wooden garden fencing is made to the highest of standards. We use top quality timber, responsibly sourced from sustainable woodlands. Not only do we make stunning fences, but our expert team also provides a professional installation service. On top of that, should your fencing need repair, we can assist. We also provide quality garden gates. This will complement your garden's fencing. We manufacture sturdy and attractive gates to fit any sized opening. You are welcome to pay us a visit to view our range of wooden garden fencing options, as well as our selection of gates.
Wooden garden fencing in Rainhill makes a statement. Increase your property's kerb appeal, enhance your security, and add value to your property. We can help you do that. For more information about our wooden garden fencing, contact A Line Fencing today. Our professional services are available 7 days a week. We only use top quality products from trusted names in the industry such as Marshalls, Stonemarket, and forest Landscapes. Not only do we offer wooden fencing solutions, but we also offer palisade fencing, security fencing as well as commercial fencing. You cannot go wrong with beautiful wooden garden fencing from A Line Fencing. Get yours today!