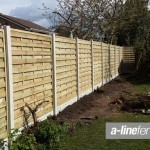 Garden fencing in Prescot is available in different materials. The right garden fence for your property adds, not only security but also an attractive look. There are numerous reasons why your garden fencing should be chosen with care. After all, you spend a considerable amount of time in your home. It makes sense that it is comfortable, attractive and safe. If you are searching for the most suitable garden fencing for your property, speak to the experts.
Fencing is what we do. In Prescot, garden fencing could be timber fencing, concrete fencing, palisade fencing or post and rail fencing. The choice is yours. If you are uncertain about which type of fencing is best for your property, we would be please to assist with advice and suggestions. Each type of fencing has its own set of benefits. You'll need to decide which type you would like for your property. Consider wooden garden fencing. It offers a timeless look. It is also known for being robust. As timber fencing specialists, we can assist you in choosing the best garden fencing for your home. All our timber is sourced from ethically managed woodlands in the UK. It is also carefully treated with Tanalith A, which in turn provides a preventative treatment against wood rot and insects. When you choose our wooden garden fencing, you can be sure of a stunning looking, and durable fencing option.
Garden fencing in Prescot is available at excellent prices from the experts. For more details about our range of garden fencing, contact A Line Fencing today. On top of that, we also offer expertly manufactured garden gates. These can be adjusted to fit any sized opening. You will also be interested to know that not only do we provide top-quality garden fencing, we also offer a fencing repair service. If your garden fencing is damaged, we can remove and replace the affected panels, leaving your fencing looking as good as new. Since 1998, we have provided our expert services to all our clients throughout Liverpool, Merseyside, St Helens, Prescot, Widnes and North of England.