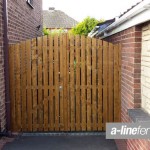 Wooden gates in Whiston are an attractive addition to your property. We make them strong and solid from fine timber for durability and security. If you are having one of our fences installed, our wooden gates are a natural complement to the looks, access and security of your fence. However, our gates can be used in other ways for privacy and security. You may not feel the need to fence your garden but maybe you would like to close the open throughway from the street side of your property to the back garden. A gate between your house and garage might accomplish that. If you have a side door where you do not welcome strangers, block it with a gate between the house and a garage or post.
You may already have a fence around your property but feel the gate provides no real security. In Whiston, wooden gates can be custom built to securely fit the opening. Choose from a selection of hardware and locks to meet your security needs and at the same time dress up your gate. Place locks according to need. Choose to have the lock only on the inside to discourage intruders. Put it high on the gate to protect small children and pets. Never underestimate the determination and ingenuity of a toddler who wants to scale that gate. A good solid gate and lock will definitely slow them down.
When we build our wood gates in Whiston to custom fit your needs, we don't skimp on quality for material or craftsmanship. We guarantee all our products. When you choose to have us build and install your fencing, we build the gate to compliment the fence. The same high standards are followed throughout our services and products. Our wood gates are not flimsy. They will not sag, splinter or crack. The gates are solid and so is the installation. You can count on our gates to withstand the elements and keep their good looks. Contact A Line Fencing and let us know what purpose you have in mind for wooden gates. We'll make some recommendations and show you the samples. All quotes are free and that's true for all our products and services.