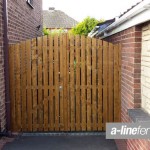 Wooden gates in Prescot  are built to last and to add value to your home.We also build fences and decks as well as install turf. Perhaps you just need a gate to provide safety and privacy. Depending on the size of your property and how your home is positioned on that property, you may have some gaps you would like to close. A gate may be the answer since you can still go in and out. Do your kids play in the driveway when your car isn't there? Keep them safe with driveway gates. Toy cars and balls won't roll into the street risking the safety of the kids. A gate tells passers by that from that gate inward is a no trespass zone. It also provides an extra measure of security for your car and garage against vandals and theft.
Have you ever looked out your back garden window and spotted a stranger in your garden talking to your child?  In Prescot, wooden gates are a solution to that kind of scare. The trespasser may have walked from the street right between your house and garage or your house and your neighbour's house. A gate closes that gap and an inside lock secures it. The only way into your back garden now is through your house unless you unlock the gate. Privacy is protected with a solid timber gate that passers by cannot see over, small children cannot climb over and the dog can't jump over. The cat may use it as an observation tower. Those on the other side of the gate will get the message.
The wooden gates in Prescot that we build are unique and custom built for you. We have a selection of ready-made gates from which you can choose and we'll fit it to your opening. The timber is beautiful and we have a great selection of hinges, handles and locks to dress it up to your liking. Contact  A Line Fencing and we'll come to your home and give you a free quote. We'll bring along some brochures so you can get some ideas. The gates are beautiful and crafted with skill. We want your timber gate to keep it's good looks for decades so we use protective treatments. You may have your own design ideas and we welcome those ideas.